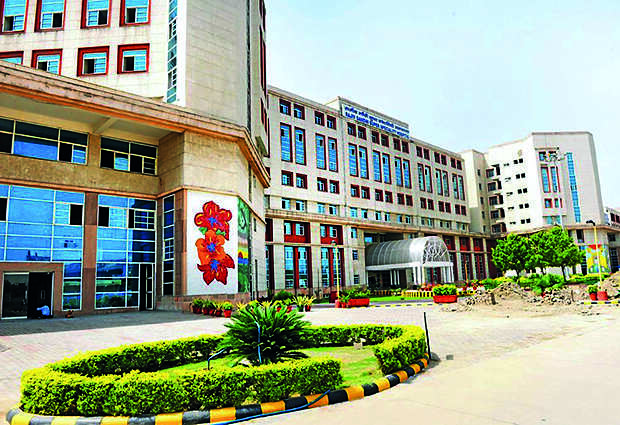 New Delhi: Delhi government's Rajiv Gandhi Super Speciality Hospital in northeast Delhi is going to have the city's
first storage facility
for
Covid-19 vaccine
.
The dedicated Covid-19 hospital has been chosen by the Centre and will be among the first such facilities in the country. The utility block of the hospital will be used for the storage facility, which will be spread over 5,000 square metres. The hospital authorities said a team of the Union health ministry had already surveyed and approved the utility block.
"For the Centre's programme for vaccination, it had written to Delhi government that they need some place with an area of at least 5,000 square metres. We have given the area to them, which has been earmarked, and they will occupy it soon," Dr B L Sherwal, medical director of the hospital, told TOI.
He said the area was being retrofitted for it to be converted into a cold storage facility. "Modifications are being carried out as deep freezers will come, for which the existing doors will have to be changed. We will also need more electricity points, apart from power backups," the medical director added.
Delhi government will use the existing cold chain system in the city used for regular immunisation programmes, apart from the supply and distribution chain, for introduction of the Covid-19 vaccine, but there was a requirement for a suitable site for bulk storage. "Delhi government has also assessed the preparedness of the cold chain infrastructure for any required strengthening," an official said.
The government is preparing a database of health workers at the forefront of the battle against Covid-19 who are likely to get vaccinated in the first phase. The database will include doctors, nurses, lab technicians, pharmacists and auxiliary nurse midwives from both government and private sectors.
The Union health ministry had last month directed all states and Union territories to submit plans on backend infrastructure, cold storage and distribution by October 31. The governments were also told to prepare for a robust vaccine supply chain.
"The database will be submitted to the Union health ministry and it will decide on how to go about it," a Delhi government official said.