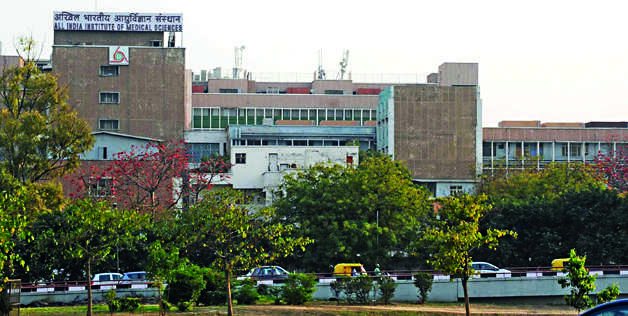 New Delhi: To cater to the increased demand of manpower in the current Covid situation,
All India Institute of Medical Sciences
has decided to cancel
winter vacation
for its staff this year. The vacation was scheduled to be taken between December 23 and January 10 next year.
The hospital has been at the forefront in the battle against the pandemic by providing treatment to infected individuals at two of its dedicated facilities — Trauma Centre and NCI Jhajjar — for the past few months. Trauma Centre has 265 Covid beds, while NCI Jhajjar has 1,500. Also, the main AIIMS campus continues to conduct limited OPDs and emergency procedures, Dr D K Sharma, medical superintendent, AIIMS, said.
"Elective surgeries aren't happening currently. But we are receiving over 300 patients through main emergency and another 100 at the Trauma Centre daily. The occupancy of beds in the hospital also remains normal," the doctor said. On resumption of normal OPDs and elective or planned surgeries, Dr Sharma said a decision would be taken when the Covid situation in Delhi stabilises. "We will review the situation in about two weeks and decide on resuming normal operations," the doctor added.
The hospital had shut OPD services and curtailed all elective surgeries in March to redirect its resources to fight the pandemic. The doctors said, surgeries were being conducted for emergency cases regularly and the follow-up was also being done through teleconsultation to reduce the need for patients to visit the facility.
"All the employees at the hospital, including medical, paramedical, office and other support staff have been trained on infection-control practices," said one of the doctors.
Lok Nayak, the largest medical facility run by Delhi government, is currently functioning as a dedicated centre for Covid treatment. Dr Suresh Kumar, medical director of the hospital, said they were contemplating to start non-Covid services soon. "National Medical Council has already allowed opening of medical colleges. Non-Covid services have to be resumed for better training of students and to cater to patients suffering from various ailments," the doctor added.