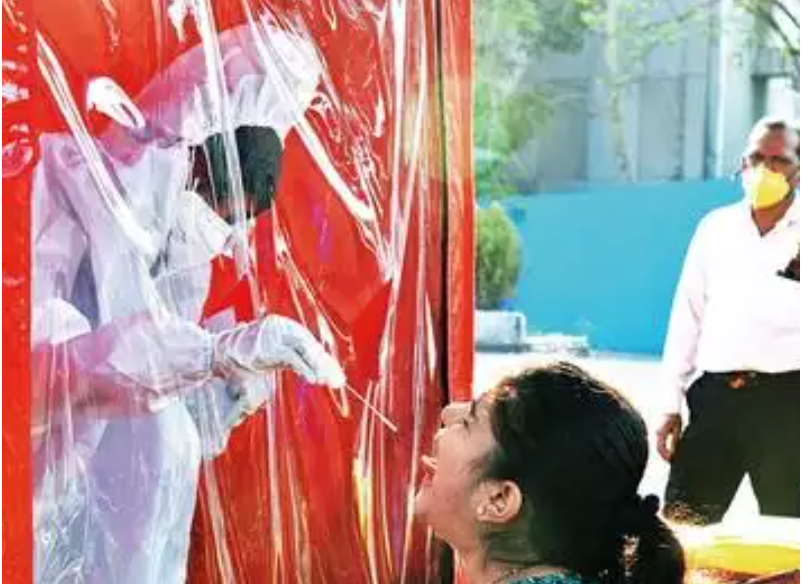 Mumbai
: Civic chief I S Chahal on Friday directed private
hospitals
to ramp up their
vaccination drive
by inoculating 1,000 people each in a day through extended immunisation hours (9am to 9pm). He said Mumbai must hit the target of 1 lakh vaccinations daily so that 45 lakh vaccine doses are administered in as many days to the 22 lakh-23 lakh people from priority groups. Public hospitals currently carry out 80% of vaccinations.
Chahal's diktat came in a week that has seen turnout dwindle with the initial euphoria wearing off. Since the drive was opened for senior citizens and people above 45 years on March 1, daily vaccinations had seen a steady growth till Monday when numbers began to drop— they fell 12% by Thursday (39,644) as against Monday (44,683).
On Friday, numbers rose marginally to 42,740. The decline in footfall of senior citizens continued though. From 30,298 senior citizens who took the vaccine on Monday, they dropped to 21,422 on Friday. Vaccination numbers plunged in the state as well to 2 lakh on Thursday from 2.74 lakh on Wednesday.
Additional municipal commissioner Suresh Kakani said the initial two weeks saw a good response from middle- and upper-class citizens. "The drive has to be taken to the slums now. From Monday, there will be registration booths in Dharavi," he said. Private hospitals have been asked to reach out to housing societies near them using their own resources or through corporators and social organisations. A civic official, though, admitted to concerns about vaccine stocks and said the city currently has stocks to last 3-4 days.
Chahal said civic hospitals were shouldering the lion's share of vaccinations and private hospitals were vaccinating merely 4,000 people on some days. On Friday, for instance, the 25 BMC centres immunised 27,440, more than double of 12,592 by 59 private hospitals. "Vaccination is crucial to bring down the overall mortality rate to zero and to reduce the severity of the infection," Chahal said. He rooted for 24/7 vaccination centres once again, saying given the lifestyle and office hours in Mumbai, more people can get vaccinated if the timings were from 9 am to 9 pm.
Private hospitals said they are willing to scale up if the turnout increases. Joy Chakraborty, COO of Hinduja Hospital, said most private hospitals vaccinate an average of 300 people daily. "We have to either work 24/7 to cover 1,000 people or add booths. We are exploring both options," he said. Dr Gautam Bhansali from Bombay Hospital said the footfall was not high in private hospitals.
Kakani said, "Public hospitals will not vaccinate on Sunday but private centres are free to operate. We will need faster replenishment if vaccination picks up. We hope to receive fresh stocks on Monday." The city has vaccinated 8.1 lakh so far, including a lakh with both doses.
Chief minister Uddhav Thackeray, in Nandurbar to review the vaccination drive, said the state will ensure enough stocks are available so the drive continues without disruption. (With inputs by Bhavika Jain)