GURUGRAM: On a day the Supreme Court directed all states to conduct a fire safety audit of all
hospitals
, TOI has learnt that several hospitals in the city — including the
Civil
hospital in Sector-10 and ESI Hospital in Sector-9. both Covid care facilities — are functioning without the mandatory 'no-objection' certificate (NOC) from the fire department. Only 56 hospitals in Gurugram possess the mandatory document, officials said.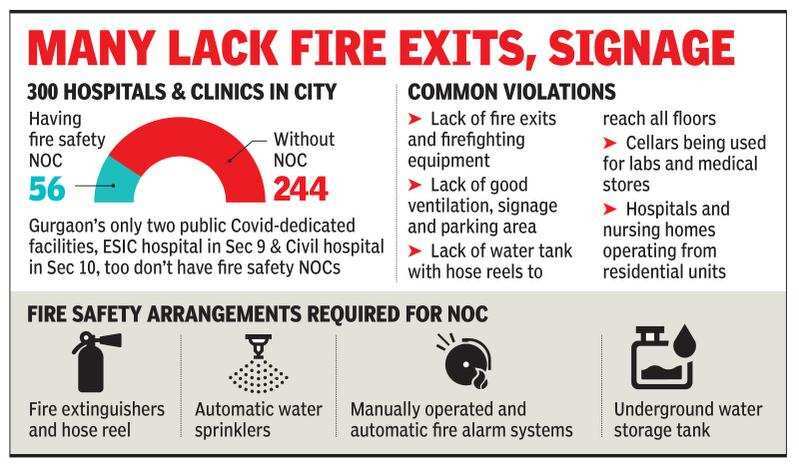 According to senior officials of the district administration, an estimated 300 hospitals and clinics are running across Gurugram, of which 80% apparently do not comply with fire safety norms. These include the district's only two dedicated government Covid facilities — the Civil hospital in Sector-10 and ESI Hospital in Sector-9.
Officials said both the hospitals had submitted an application for obtaining a fire NOC, but inspections by the fire department revealed discrepancies in basic safety standards of the facilities. "Their applications were rejected after consequent inspections found these hospitals did not have enough fire safety devices such as water pumps, hydrants and sprinklers," said IS Kashyap,Gurugram's fire safety officer.
"The Civil hospital, for instance, has breaches in the pipeline connected to the main water tank and there are technical issues with two water pumps as well. Once these faults are fixed, we will issue the NOC after a fresh round of inspections. We will also conduct a survey to identify those hospitals without a fire NOC," he added.
According to the fire department, only big private hospitals are applying for fire NOCs or renewal of the same. In the past one year, the fire accidents that occurred were mostly in facilities that had no NOC.