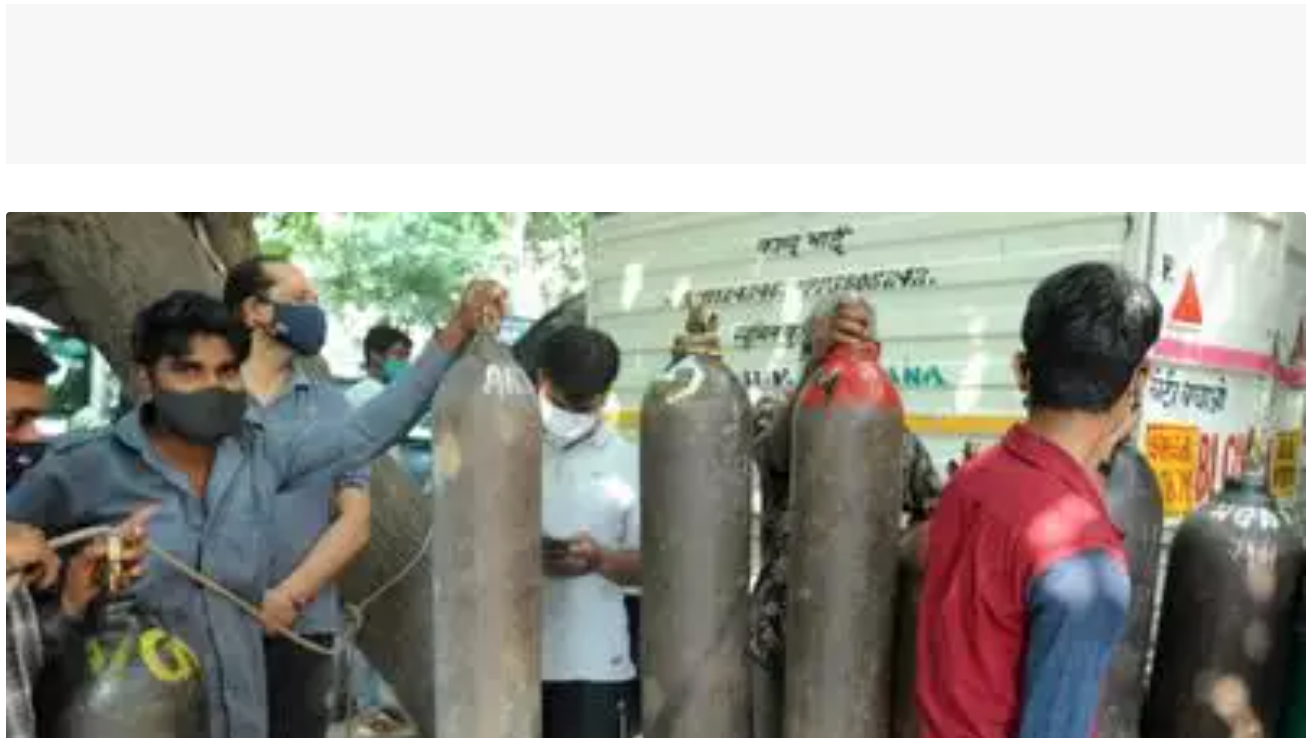 Ahmedabad: The state of Gujarat has requested the Union government to increase its present 975MT allocation of
medical oxygen
by projecting an estimated demand of 1,600 MT on May 15, because of the rate with which Covid-19 cases are rising in the state.
In his affidavit filed before the Supreme Court on Friday, Gujarat chief secretary Anil Mukim stated that there is no increase in oxygen allocation to Gujarat despite repeated requests to the Centre. He submitted, "The Government of India has not increased the allocation to the state beyond 975MT and the same has been creating tremendous distress to the patients seeking hospitalization and oxygen therapy, resulting in denial of medical treatment to the needy despite availability of beds and qualified personnel in hospitals."
Similar words found place in Mukim's request sent on May 5 to the Union home secretary and he requested the Centre to increase allocation of medical oxygen to 1,200MT for that day and 1,400 MT for May 12.
"Please appreciate the seriousness of the issue and kindly increase the allocation at the earliest," his letter reads. In it he mentioned that looking at the rise in Covid-19 cases and increase in oxygen supported beds in the state, there will be a requirement of 1,600MT Oxygen in Gujarat on May 15.
Mukim wrote that on April 26, Gujarat needed 1,190MT oxygen as against supply of 975MT and it had requested for 190MT additional supply on that day. On April 26, total oxygen beds were 53,913 (5,837 ICU with ventilator, 6,735 ICU without ventilator, 41,341 NRBM/nasal cannula).
For last week, with an increase in Covid cases, total oxygen beds went up to 57,684 (6,429 ICU with ventilator, 7,154 ICU beds without ventilator, 43,785 NRBM/nasal cannula) – an increase of 6.4% was witnessed.
Mukim further wrote, "Accordingly, our requirement of oxygen has gone up from projected 1,250MT (April 30) to 1,400MT for today (May 5) and is likely to increase to 1600 MT by May 15th."
He further said that despite mobilizing additional sources, Gujarat is not able to meet with rising demand for Oxygen and in consequence, it is not able to operationalize additional 11,500 beds with oxygen line and medical team "just for want of Oxygen".
Mukim's letter also said that Covid-19 cases are increasing in rural areas of Gujarat and oxygen shortage is causing enormous distress resulting in long wait times for hospitalization.
On May 6, Mukim wrote another letter requesting the Centre to create a buffer stock of minimum 400MT of liquid oxygen for Gujarat.
This was because Gujarat witnessed two shutdowns – at Sriram Oxy in Bhavnagar on April 25, and Linde in Bharuch on April 27.
"With great difficulty, the stress was mitigated. However, should a similar disruption were to happen again, then that would have life threatening consequences," his letter said.