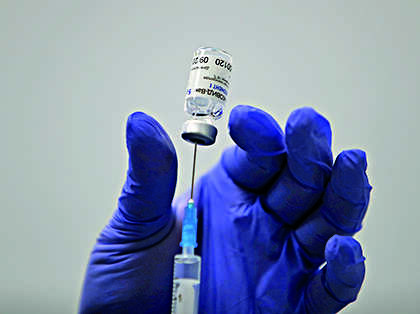 New Delhi:
Healthcare workers
have begun submitting applications for
Covid-19 vaccination
. To expedite the process of enumerating the priority group for the
vaccine
when it becomes available in India, Delhi government has asked all registered and unregistered healthcare facilities in the city to list their workers, including sanitation workers and security staff, by Saturday midnight. The government will then process the data and prepare a database for the rollout of the vaccination programme.
"Enrolment is in full swing and many registered nursing homes and hospitals have already submitted the details of their employees," said a government official on Friday. "We have also inserted a public notice in the newspapers to ask those who have so far not submitted the details to immediately do so."
Delhi chief secretary Vijay Dev reviewed the enrolment exercise with senior officials on Thursday and was satisfied with the progress. The infection rate among healthcare workers of Delhi is fairly high due to exposure to the novel coronavirus and so the central government has prioritised their vaccination.
Two types of enrollment are under way. The central government-run hospitals and dispensaries are submitting details of their human resources to the Union government according to the mechanism provided to them. "Delhi government hospitals and private hospitals, nursing homes and other healthcare facilities are giving their lists to the state government's health department," disclosed an official. The data will be submitted to the Union health and family welfare ministry by Delhi government.
The healthcare workers include medical, paramedical, supporting, security, sanitation, and administrative staff of all allopathic, dental, Ayush, physiotherapy clinics, diagnostic laboratories, radiology centres and other healthcare settings. Information can be uploaded on https://www.dshm.delhi.gov.in after private healthcare centres seek login access. A separate link has been provided for unregistered clinics.
Delhi government will be employing its existing cold storage chain system currently used for regular vaccination programmes, apart from the supply and distribution chain for Covid vaccination. The government has a robust vaccination infrastructure already in place and the same resources, including human, are expected to be used for the Covid immunisation exercise. District-wise micro planning will be carried out for the last mile distribution of the Covid vaccine.
An official said that Delhi government would follow all the central guidelines and directions for the implementation of the Covid vaccine programme. The plan for the distribution and implementation of vaccination among healthcare workers will be shared by the central government and accordingly implemented in Delhi, said the official.
The Covid positivity rate in Delhi is dropping fast. Despite 85,000 tests in a single day on Thursday, only 4,000 persons tested positive (4.78% positive rate) and the number of recovered persons is now much higher than those actively infected.