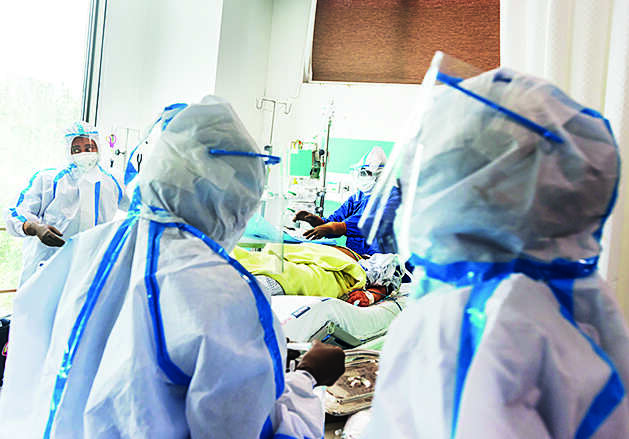 Mumbai
: Jumbo Covid-19
hospitals
have gone on a recruiting spree once again with an increase in admissions in the past few days. With a sharp increase in
positive cases
, private ICUs have started to fill up, while
wards
have seen an uptick in admissions as well.
At BKC's jumbo Covid-19 hospital, dean Dr Rajesh Dere said they have been hiring doctors, nurses and ward boys for the past two days. The hospital on Thursday had 321 patients, up from an average of 180 till last week. "We have nearly 700 active beds, but we are hiring manpower that is needed to run 2,000 beds," Dere said. For now, the plan is to recruit over 200 doctors and staffers. The ICU occupancy has now gone up to 40 from an average of 30 till last week.
A similar recruitment drive was underway at the Nesco jumbo hospital in Goregaon. On Thursday, the field hospital was preparing to activate 769 beds in addition to the 886 that are already functional. Dean Dr Neelam Andrade said the average bed occupancy has increased from 32 last week to over 100. On Thursday, 141 patients were admitted. "We had shut down wards and ended contracts with several healthcare workers as we were seeing merely 2-3 admissions in a day. But daily admissions have increased to 20-22 now," she said.
Nesco's ICU had only eight patients on Thursday, but over a dozen on oxygen support. "Till last week, we didn't have anybody on oxygen support on most days," Andrade said.
From 4,238 cases reported between February 1 and 10, the number jumped to 6,416 in the following 10 days. Active cases in the city increased by 41% within these 10 days to touch nearly 9,000. BMC officials, however, said that merely 3,879 beds of the 13,125 Covid beds were currently occupied. Of the 1,554 ICU beds, 42% were occupied on Thursday. The occupancy on ICU beds in public hospitals was 39%, but over 46% of the 575 private ICU beds were occupied.
At Fortis Hospital in Mulund, the ICU was nearly full on Thursday. At Powai's Hiranandani Hospital, nearly all 72 beds, including isolation and ICU beds, were occupied. Dr Rahul Pandit, intensivist at Fortis and a member of the state task force, was flooded with inquiries for ICU beds on Wednesday, the highest he had in the past two months. At public hospitals with higher ICU beds, there is no paucity of beds still. Dr Rakesh Bhadade, ICU in-charge at BYL Nair, said admissions have marginally risen from an average of two to six. "But the severity or deaths are nowhere close to previous numbers. People are going to stepdown facilities sooner," he said.
The demand for Covid care centre beds that admit mildly symptomatic positive cases has seen some increase. Dr Bhupendra Patil, medical officer of health, said that several asymptomatic patients from his ward, M-West, wanted to shift to institutional quarantine as they live in small homes. Former KEM dean Dr Avinash Supe said that despite the surge, Mumbai's death rate has remained below 1%. "People must be cautious, watch their symptoms and get hospitalised soon as they see warning signs," he said.