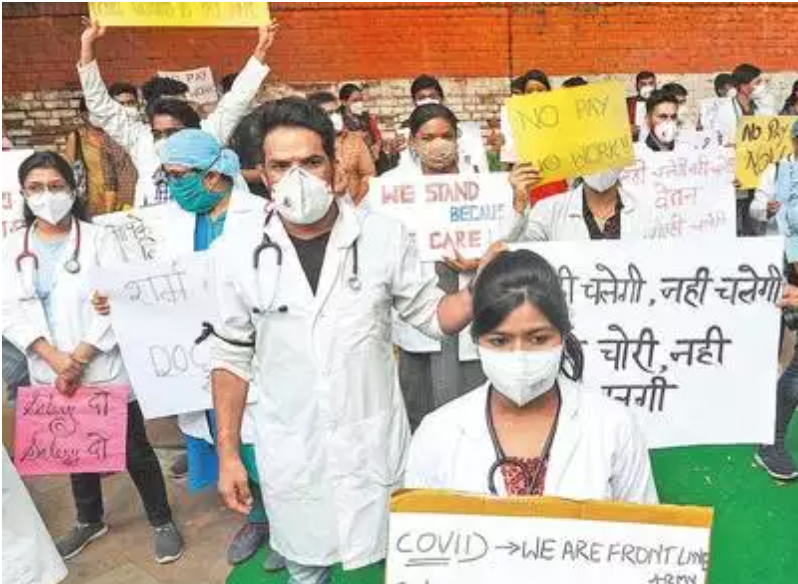 New Delhi
: Not having received their salaries for three to four months,
doctors
of
Hindu Rao Hospital
held a general body meeting of their association on Friday, where it was unanimously decided to go on an
indefinite strike
from March 22.
Resident doctors' association (RDA) of Kasturba Hospital has already called for a strike Saturday onwards. Dr RR Gautam, who heads the municipal corporation doctors' association, said that doctors from dispensaries and polyclinics will also take part in the strike. "We will all go on mass leave on March 19 and then we will wait for one day to see if the administration shows any willingness to find a solution. From March 22, we will go on total strike," he added.
Dr Abhimanyu Sardana, who is president of the RDA at Hindu Rao Hospital confirmed that both senior doctors as well as junior residents will take part in the strike. Salaries of healthcare workers have been pending from three-four months and now, doctors allege that attempts are being made to create divisions between them.
"Some senior doctors who work in hospitals have received one month salary today, but what about those who are working in far-flung areas in dispensaries and clinics. The administration should try to find a permanent solution to the salary crisis instead of categorising the doctors," Dr Gautam said.
He said that after the last strike in October the civic authorities had assured them in written that no pendency of salary will take place. "We had spent Diwali without salary and now the financial year is ending and still we can't meet our obligations," he added.