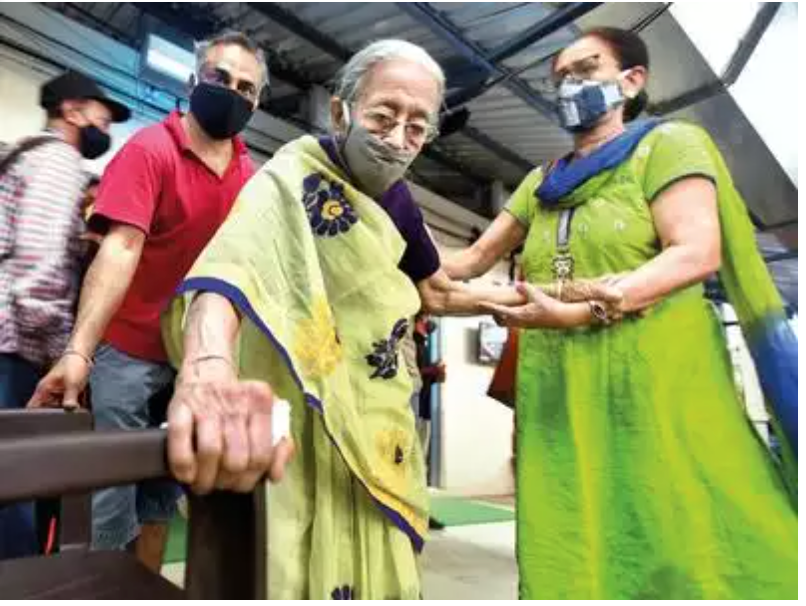 Mumbai
: On the third day of the expanded
vaccination drive
including
senior citizens
and those above 45 with co-morbidities, crowd management remained an issue in some of the public centres. Gates of the Nesco jumbo hospital in Goregaon had to be closed before 4pm as hundreds were still waiting. "On-spot registration is leading to overcrowding and a solution is urgently needed," said a doctor, adding that people have started queuing from 7am. "The software must be tweaked to provide specific time slots," he said.
At the Mulund jumbo centre, there were over 100 senior citizens still waiting to be vaccinated at 4.50pm. One said he had been waiting since 12 noon and got vaccinated around 4.45pm. Suresh Kakani, additional municipal commissioner, said walk-in registrations have to run as not everyone has access to mobile phone or internet.
A day after all private hospitals were allowed to join the drive, only one, Wockhardt Hospital, could run a centre on Wednesday. Dr Parag Rindani said they immunised 210 people because all had registrations.
Fearing crowding, most private hospital managements have decided not to allow walk-in patients. Dr Gautam Bhansali of Bombay Hospital said hospitals will need a day or two to get a grip on the software and crowds. "If it works fine, we may start walk-ins later," he said.
Overall, compared to the first two days, the vaccination process was smoother on Wednesday. Only in a few centres, Co-WIN functioned erratically, leading to delays. Garodia Nagar resident Sudhir Vora made two trips in less than two hours to Rajawadi Hospital, Ghatkopar.
Senior citizens made up more than 50% of the turnout in the state and city on Thursday. In Maharashtra, the elderly and those over 45 years with co-morbidities made up for 27,842 (54%) of the day's turnout of 51,240. In Mumbai, which recorded 135% turnout as against the targeted 13,800 recipients, 10,019 from the vulnerable group turned up, accounting for 53% of the day's total of 18,566.
The issue of hospitalisation post-vaccination if someone suffers from a side-effect was discussed widely. Gautam Khanna, president, Association of Hospital, said there were no guidelines. "We are assuming patients will have to pay, but we don't have clarity yet," he said.
The Thane municipal corporation has started nine new centres, including at Hazuri isolation cell, CR Wadia municipal clinic, TMC school at Balkum pada 1, among others. The situation remained chaotic at the existing centres due to lack of facilities like waiting rooms, chairs and washrooms. "The waiting time was longer as the registrations happened slowly," complained an elderly resident.
(Inputs by Manoj Badgeri)