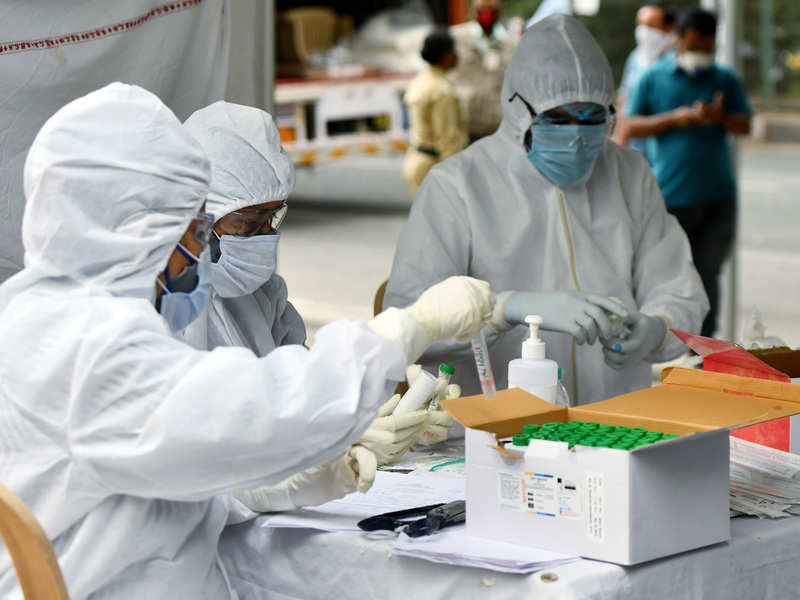 PRAYAGRAJ: The department of Pulmonary Medicine, MLN Medical College (Prayagraj) has conducted a Covid research analysis on 100 recovered Covid patients, confirmed by a negative RT-PCR test.
The category of patients was divided into mild/moderate and severe/critical groups. Their clinical sign and symptoms and blood biochemical markers were also analyzed.
"Of these patients, 60 had one or more co-morbidities," said Dr Tariq Mahmood, professor and HoD of Pulmonary Medicine MLN Medical college( Prayagraj).
He added that diabetes(60%) and hypertension (35%) were the most common coexisting conditions, COPD (Chronic obstructive pulmonary disease) was also found in 27 % of cases, bronchial asthma in 21% of the cases and chronic kidney disease found in 9% of cases.
Dr Tariq further said, "The severity of the Covid-19 symptoms was also divided into three categories. In the first category, under the mild group, 27% of patients had breathlessness on exertion requiring intermittent moist oxygen support with a face mask or nasal prongs. In the second category under the moderate group, 63 % of the patients had breathlessness at rest and required high flow oxygen devices. In the third category under the severe group, 10% of the patients were on BiPAP (Bilevel Positive Airway Pressure) support at the time of transfer in the ward and required further BiPAP support for saturation maintenance."
"The second and third group patients had moderate to a high degree of involvement of lung parenchyma and pneumonia, consequently developing into lung fibrosis, i.e. the Post Covid complication of lung and that affects the oxygenation and decline in SpO2 (oxygen saturation). These groups of patients needed anti-fibrotic along with other treatment and high oxygen to improve oxygenation," he said.
"Our study also showed that 88% of the patients had marked weakness, 30% patients also complained of lethargy and 47% showed sleeplessness and forgetfulness was reported by 20% of the patients" revealed Dr Tariq.
In the study, all the recovered Covid-19 patients had raised various inflammatory markers e.g. 87% had increased D-Dimer, 65% had increased Serum. Ferritin and 83 % had raised Serum. LDH levels, 71% patients had raised ESR, 67% patients had raised CRP, 64% patients had raised S. Procalcitonin level, 31% showed raised SGOT and SGPT, 33 % showed raised PT-INR levels and 42% had raised urea and creatinine levels.
"Lymphopenia found in 76% of patients and 59% had deranged serum sodium and potassium levels. Higher the inflammatory markers, more severe was the disease and poor was the prognosis," said, Dr Niraj Kumar Singh, junior resident, Dept. of Pulmonary Medicine MLN Medical College (Prayagraj).
All the serious patients had a very high level of inflammatory markers in terms of D-Dimer, Serum LDH, Serum ferritin and have altered coagulation profile in terms of deranged PT/INR, he added.
Patients were managed, according to their severity and co-morbidities present and were put on mechanical support (ventilators) along with the drugs and supplemental oxygen.