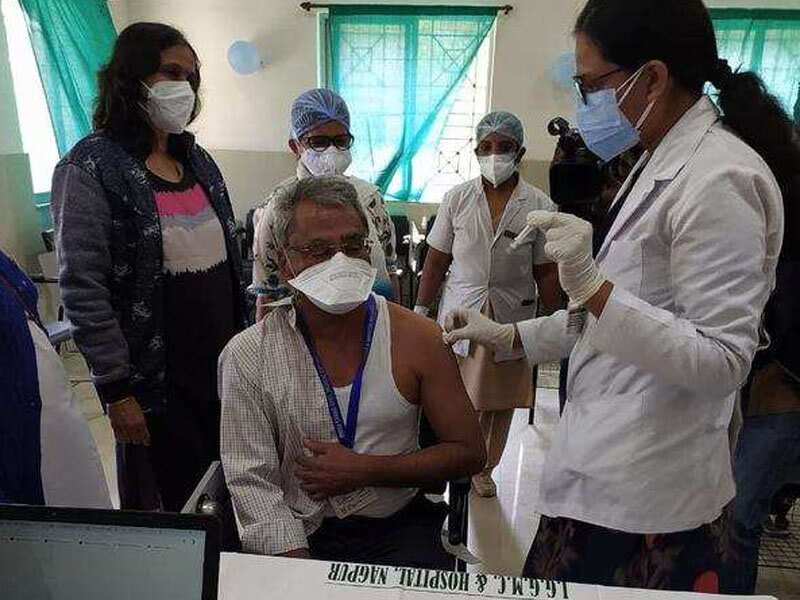 Nagpur: She is 80. She is unable to understand how a beneficiary needs to register on Co-Win 2.0 app. Yet, retired school teacher Fausta Almeida cheerfully stood with her eyes brightening up outside the vaccination room at Kunal Hospital in Mankapur. "My doctor helped me register online. I am not tech-savvy," she said as the medical worker escorted her inside for the jab.
Misbah Siddiqui (70) and his wife Azra accompanied by their son Sameer faced technical issues. But these couldn't come in the way of the elderly couple getting inoculated by 1pm at the same hospital. "We started from home at 11.30 am and were done by 12.30 pm. Except for some issues in name registration of my dad, there was no problems," said Sameer.
Some 6km away, senior citizens calmly lined up for the paid jab at Lata Mangeshkar Hospital (LMH) in Sitabuldi. For convenience, hospitals took cash, card and other modes of payments towards Rs250 per dose.
"My friend went to NMC's Indira Gandhi Rughnalaya at Shankar Nagar. It took three days for them to get the free-of-cost jab," said retired veterinarian Dr Sharad Uttarwar, emphasizing that he paid at LMH.
Dr Deepa Shori (67) said the little problem in understanding the procedure is nothing as compared to problems other senior citizens are facing at government centres. "I saw photos of people sitting on footpath," she said.
Unlike NMC-run centres where people are fearful of long waiting hours, lack of facilities and crowding, Snehal Kashikar (67) was initially frightened of getting pricked. "I reached at 2.30pm and in no time took the jab. My heartbeats went up when I saw how deep the needle goes in the arm. But when my turn came, it was almost painless," she said.
There were many happy faces at not just Kunal Hospital and LMH but also other hospitals where paid vaccination for the age-appropriate group has started. At some hospitals, the administrations have dedicated team to help elderly people.
TOI came across a group of elderly citizens who helped each other in understanding the process and also motivating each other to get the jab. Agnes Anthony (65), a resident of Mohan Nagar, was flanked by Martha Francis (87), Santano Periera (75) and Edu Stephen (70). Stephen said he didn't register but walked in with his friends and so did Periera and Francis, but Agnes and Almeida prodded them to come along. All were vaccinated one after the other.